Our Guide to Wedding Stationery Wording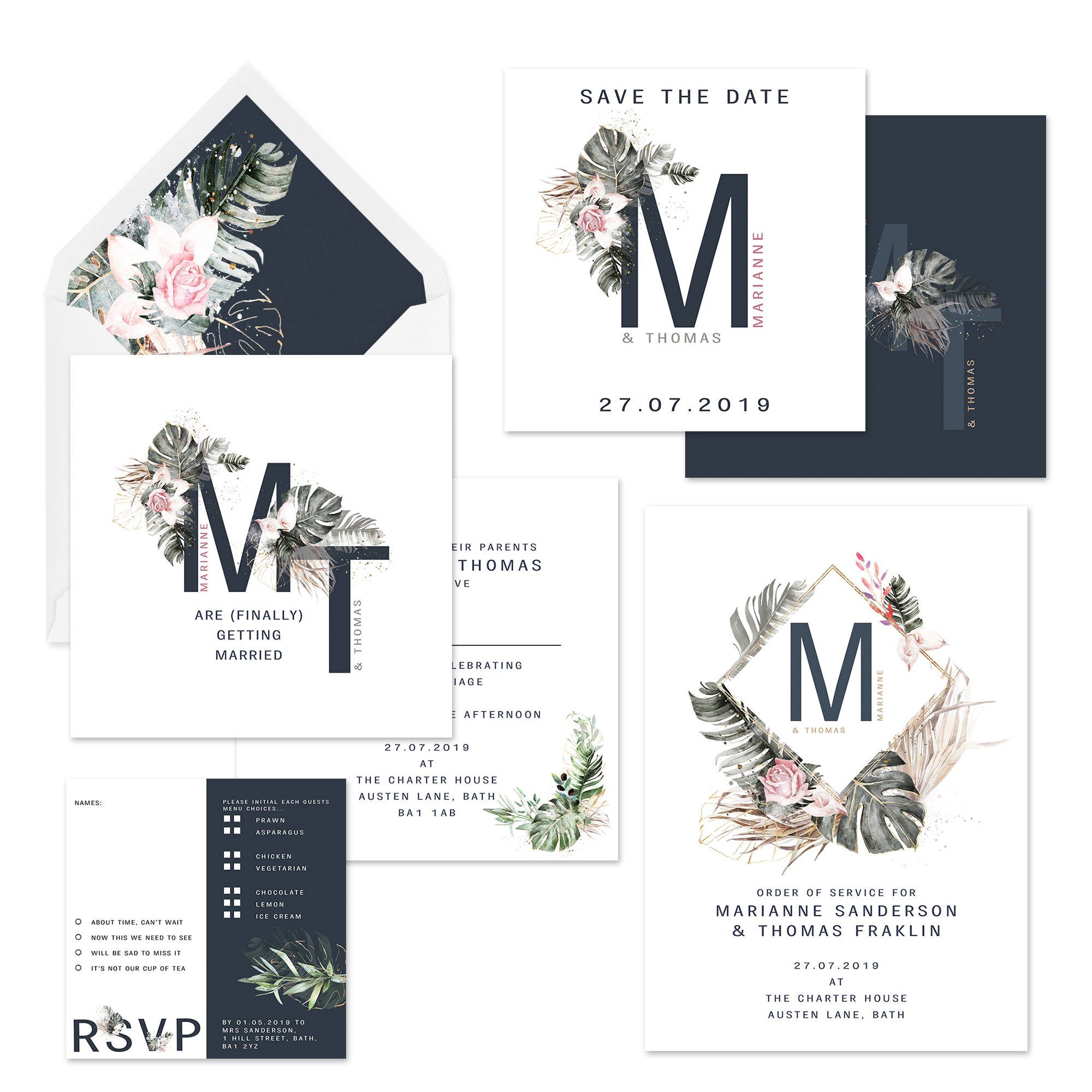 "Choosing the correct wording for your wedding invitation
and stationery can be tricky.
Our wedding wording guide aims to give inspiration and answers to common quandaries. "
Regardless of weather you are planning a super relaxed festival style wedding or a traditional ceremony and reception the wording on your wedding stationery starts your guests wedding journey and sets the tone for the celebrations that are to follow.
Regardless of whether you are planning a super relaxed festival style wedding or a traditional ceremony and reception the wording on your wedding stationery starts your guest's wedding journey. It sets the tone for the celebrations that are to follow.
---
Wording your wedding stationery can be a tricky business. For some, the feeling for fun and excitement is an important consideration. For others, etiquette and tradition are a crucial factor in the solemnity of their vows. Two things are certain. There is no universal right or wrong way to word your wedding invitations, and there are trickier hurdles than just the invitation wording (gifts, children, dress codes).
"Mustard and Gray created us the most beautiful map for our wedding. We had lots of compliments from our friends and family and it was so nice to have the things we loved included. We can't recommend them highly enough. The quality was perfect."
Beth and Mark

SEPT 2019
"Excellent service from start to finish. Zoe sent us samples so we could choose the paper and colour that worked with our bridesmaids. The invtes arrived in a beautiful box. We are very very happy with everything.. Thank you.
Mia and Carlos

AUGUST 2019
"We found choosing our wedding stationery very difficult but fell in love with Mustard and Grays maps. We have family spread all over the UK and France and they created a fab map that we will always treasure. We even have a copy framed. "
Jasmin and Douglas

APRIL 2019
WORDING YOUR WEDDING Invitation
Choosing the perfect wedding stationery to reflect you both, and to set the scene for your day is important. Arguably the actual invitation and stationery wording equally as important, if not the most important part of your invitation. Choosing the right wording for you can vary depending on a few factors including:
How formal your celebration will be

Who is 'hosting' your wedding

How traditional you are
Together with their parents
Mr and Mrs P Keller
and Dr and Mrs W Portico
request the pleasure of the company of
We have also included a handy etiquette guide if you want to make sure your stationery holds with tradition.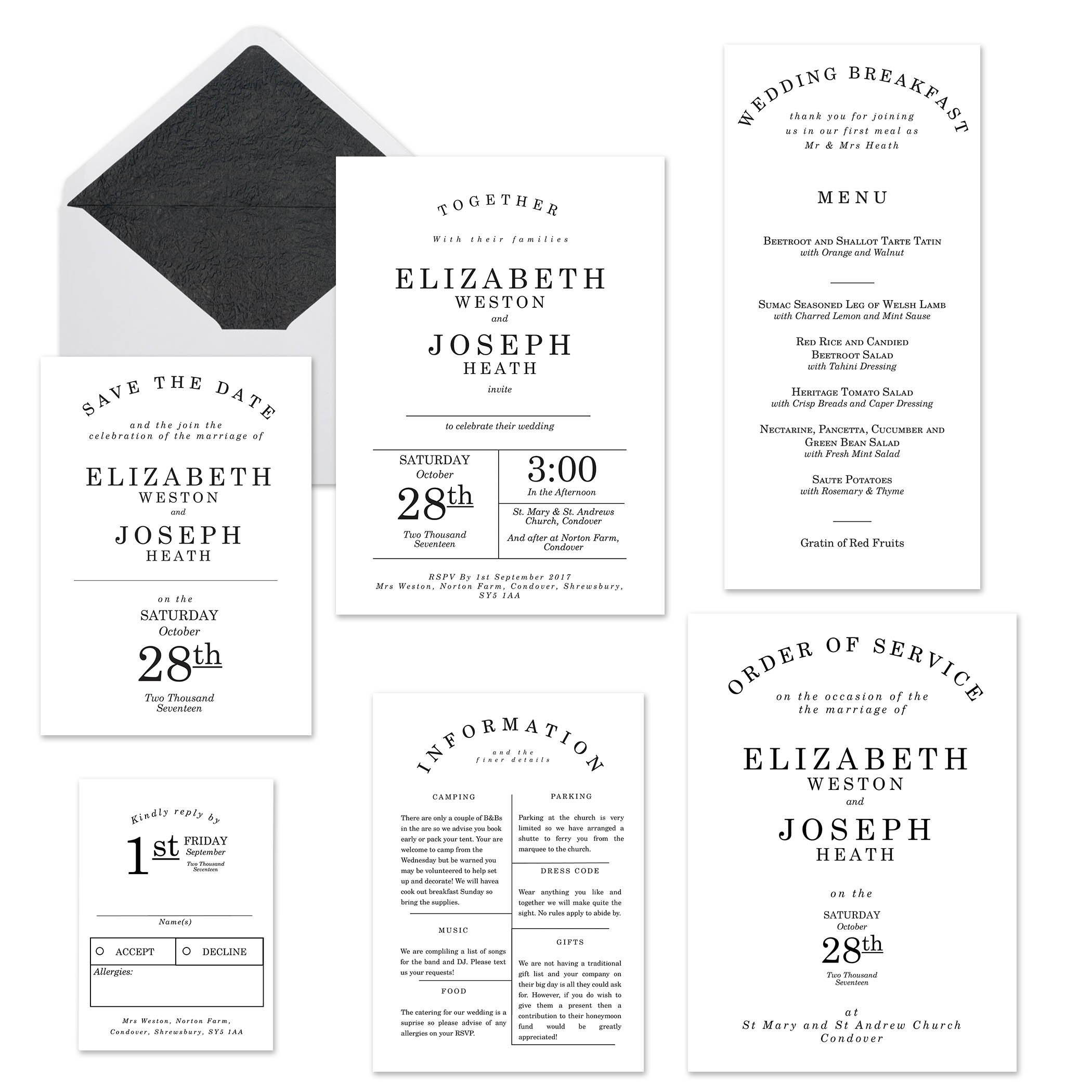 ---
---
Regardless of the style of your wedding, or the degree of formality important to you, there are some elements in the wording of your wedding stationery you must be sure to include. On an invitation, for example, you must be sure to include:
Names of the bride's parents or other 'hosts'

First names and surname of the couple (or bride's first names only if her parents are hosting).

Where the ceremony is being held

Date, month and year of the wedding ceremony

Location of the wedding reception

Address to which guests should respond / RSVP

A RSVP date


YOU MAY ALSO LIKE TO INCLUDE

---
You might also wish to include:
Details of any dress code or theme

Time guests can expect the day to come to an end

Whether children are invited
You may want to consider adding an information card to your wedding invitation. An information card is a great way to include more detail about your day which may help your guests plan. Information cards often include details on local accomodation (often recommended by the couple or their parents), menu choices and dietary considerations, directions or parking details, Money, gifts and gift lists, children, transport, dress code, carriages and even the days schedule.

An example shown here is the "Reference Library" information card from our Berrington Book Club range.
Divorced / Deceased Parents
WHO IS THE HOST?
Your wedding stationery, including the invitation, is sent from whoever is 'hosting' the wedding. Traditionally it would be the bride's parents who would host the wedding and in turn, send the wedding invitations out. That is not the only option, however. It is now common place that the hosts of the wedding are:
the bride's parents

the bride and groom themselves

both sets of parents together

the children of the bride and groom

even the dog!
The hosts are only generally mentioned on the invite and not on the save the date or other wedding stationery (they may be mentioned on response cards as the host usually receives all the RSVPs).
THE PROPOSITION...

Once you have crossed the hurdle of who is hosting you next have to invite your guests. Traditionally this is worded as:

"request the pleasure of the comapny of"
There are lots of variations on this theme for formal and semi formal weddings including:
"the pleasure of your company"

"request the pleasure of"

"request the honour of your presence" (

"honour" traditionally indicates the ceremony will be held in a church or another house of worship)
Informal variations include:
"invite you to celebrate their wedding!"

"Invite you to witness their marriage"

"would love for you to join in their celebration"

"are delighted to invite"
Next, your guest's names are written onto the invitation. For information on how to address your guests at formal wedding see our etiquette section below.
"at the marriage of their children"

The brides first and middle name and the grooms full name (if the brides parents are hosting)

The bride and grooms full names (if following "together with their family")

The bride and grooms first and middle names (if both sets of parents are hosting)

For informal wedding invitations consider including 'nick names' with your names for a more personal and fun touch.
For all invitations it is important to include information on your ceremony including where it will take place, the address of the church or venue, the date and the time.
"At St Mary's Church, Norton on the 1st April 2019 at 12 noon"
"At Shrewsbury Abbey on Saturday 5th August 2019 at One O'Clock in the Afternoon"
"At The Citadel, Weston Under Red Castle, Shropshire on The First of June, 2019 at Half Past Two in the Afternoon"
Walton Hall, Shawbury, SY1 2AB on the Saturday, on 17.09.2020 at 15:00"
If your reception is to be held at the same location or venue as the ceremony you may wish to simply write:
"Reception to follow"

"Party to follow"

"Champagne reception to follow"

"followed by drinks, dinner and dancing"
If you are continuing the celebration of your marriage at a different venue or location you will need to provide your guests with the location (venue name), address and postcode. If the reception will not follow directly after the wedding ceremony you will need to include and time and date.
"Followed by a reception at home at The Grange Farm, Dorrington, Shropshire, SY1 2AB"

"Followed by a Champagne reception at Kidare Castle Hotel"

"Dinner and Dancing to follow at The Old Barn, Long Lane, Ludlow"
Wording on same sex wedding invitations does not needs to to be any different in its wording or layout than any other wedding invite. If one or both sets of parents are hosting the same wording would apply as listed in the hosting section. If the you, as a couple are hosting you simply use yoru names.
Who goes first on the invitation? Some say go Alphabetically to solve any potential issues but we say first to email us wins top billing!
---
If the hosting parents are divorced the simplist way of wording the wedding invitation is to include their full names, including titles, together. For example:
"Mr John Kent and Mrs Gillian Jenner"

"Mr C Bennett and Mrs H Bennet"
A wedding invitation from a widowed parent can be a sensitive consideration. It is traditional to just use the name of the parent who is hosting, or requesting the company of the guest. If the parent ishosting alone or haven't remarried your simply use their name including title.
If they've remarried and you're happy to have both names on your invitations you can word the hosting as you would with parents hosting.

An example of a widow as host:
Mr James Stiller
requests the pleasure of
[guest name/your company]
at the marriage of his daughter
Jennifer Stiller