How Custom Illustrations Work
Custom Illustrated Wedding Stationery.

We thought it may be helpful to show you briefly how our custom illustrations work so you can decide if this fun and unique approach to wedding stationery is the right choice for you and your celebration.
We offer a range of custom illustrated wedding stationery collections including
Map Themed Stationery

Venue Inspired Suites

Festival Journeys

Romantic Settings

Architectural Drawings
All custom illustations start with your vision or simply the details you would like including. Generally the things you need to provide are:
Good Quality Photographs (photos taken with a smart phone are generally perfect as long as your setting are not set to compress image sizes. We can advise if needed).

We can often gather photographs from the internet, and many venues have suitable images they will be happy to share with you.

Information on the locations that are imporant to you. The addresses and postcodes are perfect for us to plot a map for you.

Information on your colour scheme, flowers and any other details important to you.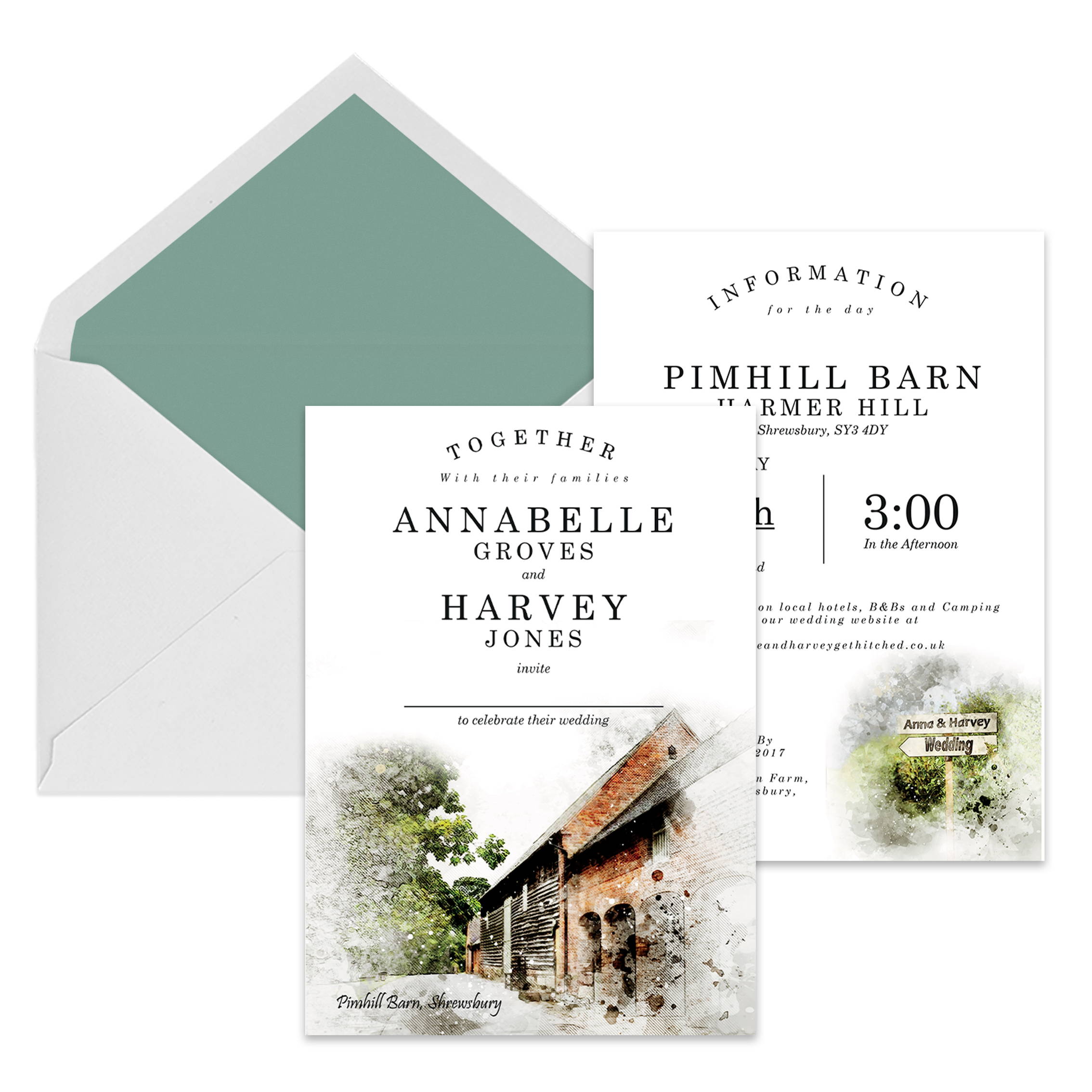 ---
---
Step by step example of a Mustard Wedding Map
Step One: Gather Photographs
---
Gather photographs of everything you would like including on your map is the all essential start to the process. If you are not sure about image size or quality, we are more than happy to advise. We can often find good quality images online, and if you are happy to give us the details, we will search for suitable pictures.
In some cases, we will ask you to take a photograph from a different angle or to gain a better quality image. This can be done by any smartphone or digital camera (no fancy kit needed!).
---
If you can send us a map extract with your locations marked that is fantastic. Alternatively, we can work from the addresses and postcodes of the places that are important to you. We have even created maps from a drawing on a napkin! We will work from whatever you can provide.

There is no limit to distance or area shown. US to the UK, Hong Kong to London, it is all possible with some abstract cartography!

---
Vix oporteat gubergren ne, dicam altera argumentum mei no, an ius verear offendit tacimates. Sed eu sumo labitur verterem, quod feugait euripidis ex sit
---
When we have created illustrations for each of your photos, we start to layout the map. We draw a simplified road network and add your details. We add new drawings like trees, flowers, animals etc. to bring the stationery to life.
---
We include all the wording, so your guests know the full details of the day. We continue the theme over to the inside or the back of the card. Where possible, include an additional illustration.
Check out our handy wedding wording guide for inspiration on how to word your wedding stationery..
---
When we have created your stationery, we send it to you to proof. We ask for your feedback, and we make edits from there. In some cases, we will send alternative images for you to choose from to ensure we have captured your vision perfectly.

When you are thrilled with the result, we go to print. You can add information cards, RSVP response cards, orders of service, table plans, table numbers, place cards and signs to all match your wedding map.
---